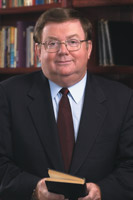 Dr. James A. Scudder founded the
Quentin Road Baptist Church in Lake Zurich, Illinois in 1971. During this time, he also founded the
Quentin Road Christian Preschool,
Quentin Road Christian School, and
Dayspring Bible College. Dr. Scudder is a popular author and Bible teacher. He is the founder of the international television and radio broadcast,
Victory In Grace. Dr. Scudder has authored over 12 books and his latest books include Finish Strong and Commentary on the Book of James. He and his wife Linda have been married for over 45 years and reside in Key Largo, Florida. They have two happily married children, four grandchildren all in full time ministry, and four great grandchildren.
Dr. Scudder began Road to Learning, formerly named Quentin Road Dyslexia Solutions, in 2006. Since its inception, the center has grown to over twenty tutors teaching one-on-one to nearly 100 students multiple times each week. Hundreds of students have succeeded in school, thanks to Dr. Scudder's vision.